Looking for Food Courier Insurance?
With the introduction of companies such as Uber Eats, Just Eat and Deliveroo, food courier services are big business in the UK.
Whether you're new to the food courier business or have been delivering takeaways for years, it's clear that although the world has changed, takeaway delivery insurance remains the same. National lockdowns and restaurant closures in 2020 have increased trade for food couriers up and down the UK, providing a lifeline to many businesses otherwise unable to trade.
If your vehicle is involved in an accident whilst working as a food courier, you will not be covered by a standard insurance policy.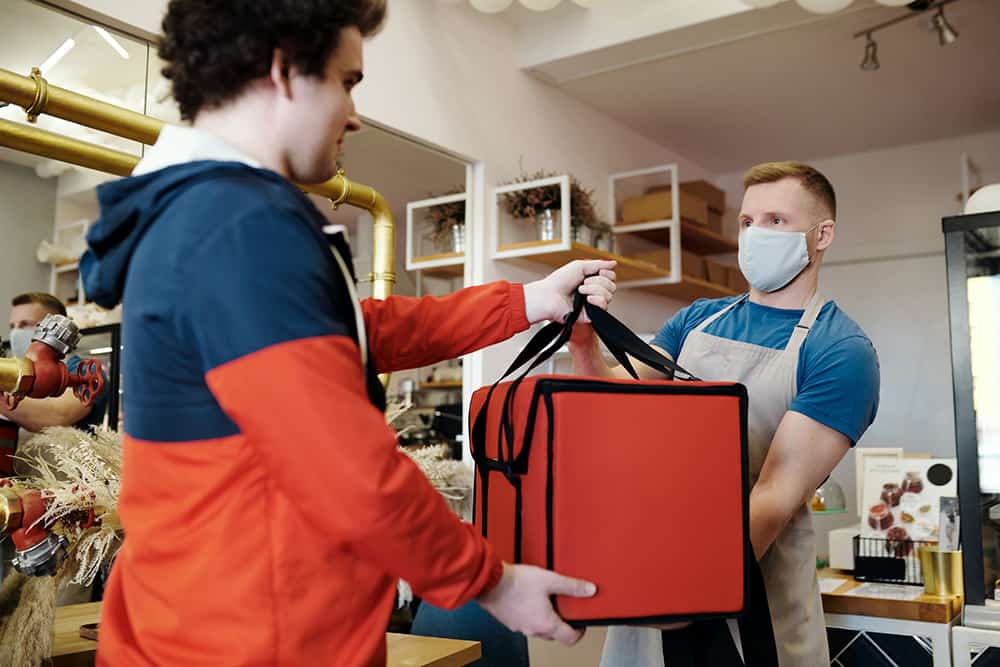 How Much Does Food Delivery Insurance Cost in the UK?
Insurance costs vary dramatically between insurers, vehicles and drivers so clearly there's no fixed price 'delivery insurance' option.
Is delivery insurance expensive?
Yes. There's no way of getting away from it, if you use your vehicle for food delivery it's going to cost more to insure than a standard vehicle. It makes no difference whether you're looking for Deliveroo insurance or Uber eats insurance, the platform is irrelevant, it is simply a matter of risk.
If you use your vehicle for takeaway delivery, you'll being on the roads more often, driving during rush hour periods and also in the dark. Add to this that you'll be under considerable pressure to deliver on time, and it's easy to see why food courier insurance costs more than standard vehicle insurance.
NOTE: Depending on the delivery platform you work for, very often you will be covered in some way by their insurance. However, it's important to realise that it's YOU that's covered NOT your vehicle. As an independent contractor it is entirely your responsibility to insure your vehicle appropriately.
Which Type of Insurance do Food Couriers Need?
By law every vehicle on UK roads must have a minimum of third party insurance. Whether you choose to increase this to include fire, theft and accidental damage to your own vehicle is up to you.
If you are using your vehicle for food delivery you will need courier insurance. By definition courier insurance covers your vehicle for delivery of goods between multiple collection and drop-off points.
Takeaway Delivery Insurance Checklist:
Courier Insurance – covers your vehicle
Goods in Transit Insurance – covers the goods you carry
Breakdown Cover – covers your vehicle in case of breakdown (if you need to get back to work fast, be sure this includes a courtesy vehicle whilst yours is being fixed)
REMEMBER: Courier insurance is not the same as haulage insurance, which typically covers long distance delivery between set destinations.
How to Reduce the Cost of Food Courier Insurance
Food courier insurance is what it is – without it you could be liable for the full cost of repairs to your vehicle and third parties, as well as legal fees and any resulting damages. You could also be prosecuted for driving without insurance, even if you had standard cover – since if you were found to be using your vehicle for commercial purposes your standard policy may be voided on grounds of nondisclosure.
The cost of courier insurance fluctuates depending on a number of criteria, including where you live and work. For example, it's likely to be more expensive in built-up areas and inner-city locations. Low cost food courier insurer is more attainable for drivers with a clean driving history, aged between 25-65, operating in low crime areas and driving a standard (not modified) vehicle, which is kept in a secure location.
If you are a restaurant looking to add a delivery option to your services, you could save money by bundling your policies together with one insurer, for example bundling vehicle insurance together with business interruption, public liability and employer liability policies. Fleet and multi-vehicle policies can also be a good way of minimising your costs and admin.
Food Courier Insurance – Useful FAQs
Yes, pay as you go delivery driver insurance is available. It can be activated whenever you're using your vehicle for work and sits on top of your standard insurance policy.
Goods in Transit insurance would cover the food you are delivering. It's not a legal requirement and if the typical value of goods is not that high, it's really up to you.
Yes. If you're operating a modified vehicle for takeaway delivery, perhaps a refrigerated unit or modified van, it's important you give insurers details of the modification. Read more…
*MoneyBeach is in no way affiliated or associated with Just Eat, Deliveroo or Uber Eats.
Related Guides