Top Takeouts: What are the most popular takeaway choices around the world?
Last modified: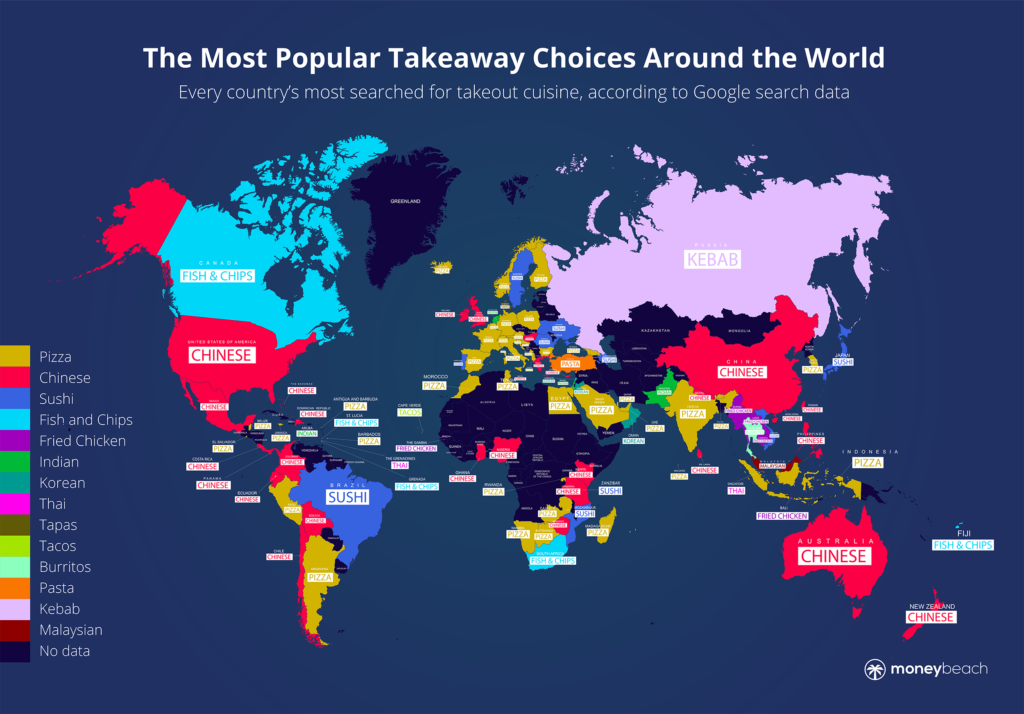 Sometimes there can be nothing better than taking a night off, and indulging in a great takeaway. During 2020, we deserved and did that more than ever, with many restaurants around the world unfortunately having to close their doors and instead solely offer takeaway services.
Which got us thinking, what have we all been ordering? We turned to Google to find exactly that out, using global search data to track how much we've all been searching for various food choices, and therefore reveal what the world's been craving the most.
The Top 10 Takeout Choices: What The World Orders Most
After ranking what foods over 100 countries are searching for the most, there was only one clear winner: pizza. Beloved by almost everybody due to the sheer number of choices on offer, from meat feasts and pineapple toppings to a growing selection of vegan options, it's no surprise that it would feature high up on the list. But with a staggering 44 countries favouring a slice, our love for pizza has never been clearer! Pizza ranked as the number one food of choice for countries all the way from France to Barbados, and of course its home: Italy.
Chinese takeaways claimed second place, being favoured by a still very impressive 29 countries, including the United States and the United Kingdom. Sushi meanwhile ranked as the third most popular takeout choice in the world, hinting that healthier choices do still feature in our delivery app order histories, and that it's not all cheese, chips and chow meins!
| | | |
| --- | --- | --- |
| # | Takeout Choice | Number of countries that search for it the most |
| 1 | Pizza | 44 |
| 2 | Chinese | 29 |
| 3 | Sushi | 10 |
| 4 | Fish and Chips | 6 |
| 5 | Fried Chicken | 5 |
| 6 | Indian | 4 |
| 7 | Korean | 3 |
| 8 | Thai | 2 |
| 9 | Tapas | 1 |
| 10 | Tacos | 1 |
To help to provide a quick view of which foods are being ordered-in the most around the world, we've also created this trusty colour coded map, that covers the top choices for 109 countries!
The most popular takeaway choices in Europe
With pizza proving such a dominant temptation around the world, it is obviously very much the same across most continents, like Europe. However interestingly, there is also a lot of love for sushi, with countries such as Sweden, Romania and Ukraine favouring the healthy choice. What may also come as surprise to many is that Indian cuisine and the likes of a Tikka Masala don't actually top our orders in the UK, with Chinese food taking the win!
North & Central America's most popular takeaway choices
The worldwide love for pizza is trumped in North & Central America by other cuisines, namely Chinese food. For example, the United States, a country herald for its New York & Chicago style pizzas, actually opts for Chinese food more when it comes to a takeaway. Interestingly, fish and chips also features, with Canada and St. Lucia seemingly loving a taste of the British seaside.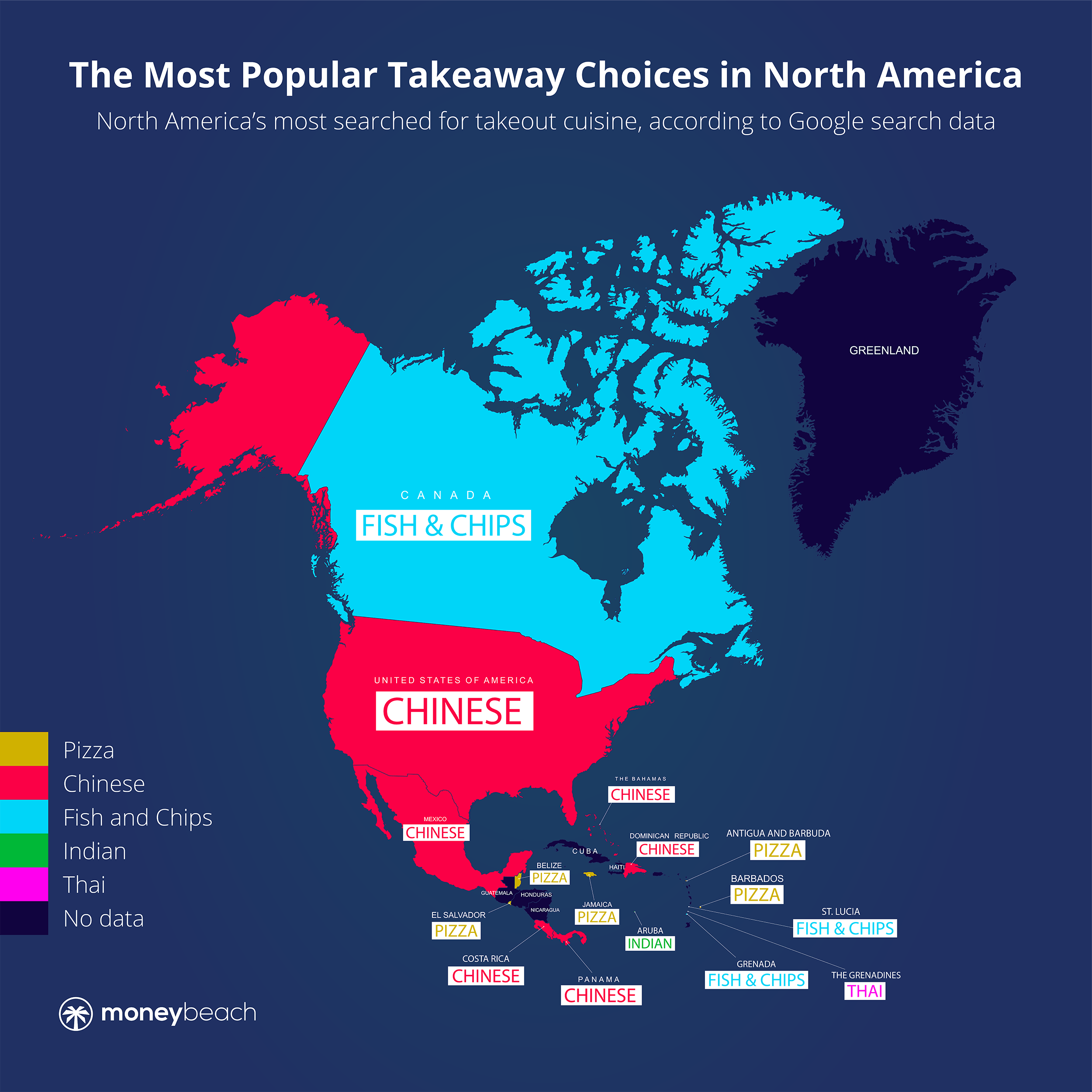 The most popular takeaway choices in Asia
With Asian food being so popular around the world, its no surprise that it's going to be popular in its home continent too. Despite a scattering of pizza searches (and love for burritos in Thailand) various Asian cuisine features across the continent. Korean food besting the rest in countries such as Jordan and Oman, while Asian fried chicken also ranks highly.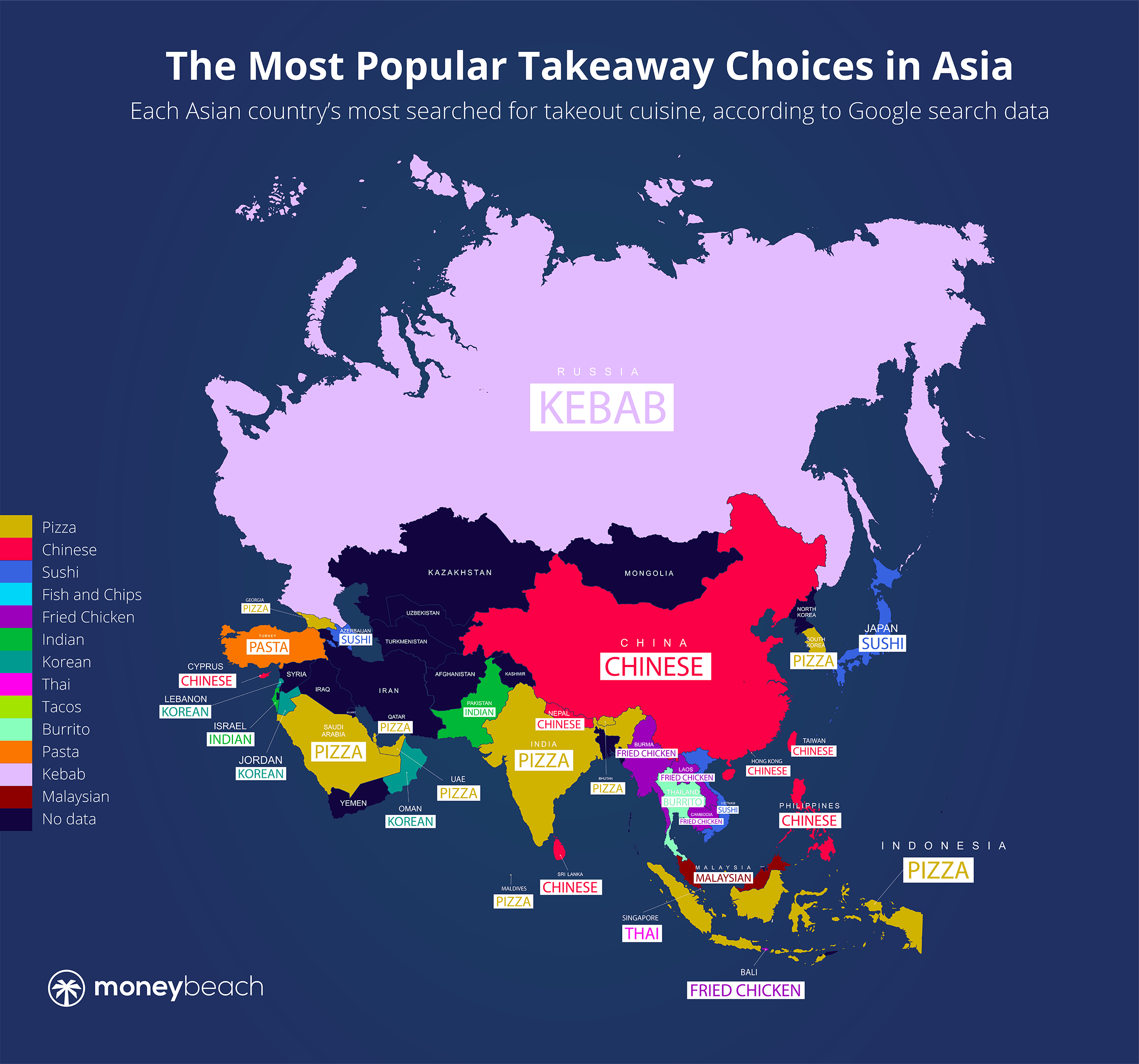 The most popular takeaway choices in Africa
We found an eclectic mixture of tastes across Africa, with pizza, Chinese, fish and chips, sushi, fried chicken and tacos all featuring as the most searched for takeout choices across various countries. Pizza however does just narrowly sneak the win, mirroring its preference across the rest of the world.
Made you hungry? Then it might be time for a takeout! If you're a restaurant, takeaway or delivery driver looking for commercial insurance, check out our restaurant insurance and takeaway insurance guides.  
Methodology 
We used Google search data (searching all languages) to establish the average monthly search volume in each country for common search terms associated with ordering a takeaway, such as 'pizza takeaway', 'pizza delivery' and 'pizza takeout'. The most searched for takeaway choice was then used as the top takeout cuisine for the specific country. Data correct as of December 2020.  
Please note: Not all countries provided enough data to be featured, so we have only included the countries with enough data to analyse.